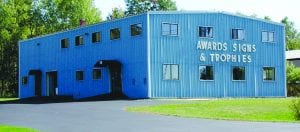 Our business originally started in 1979 as Trophy World which was located on 34 Central Street in Bangor, Maine. Dieter Heinz was the original owner. When the business was starting out, we only used a pantograph machine to engrave plaques, bowls and trophies by hand.
The company grew and in 1989 the company relocated to 48 Stevens Road in the East-West Industrial Park in Brewer, Maine and the name was changed to Awards, Signage and Trophies. More staff was hired and we purchased our first color computer. In 1999 the business was purchased by Bob Dion.
In 2018 the business name was changed to Awards, Signs and Trophies. Megan Quintal has been with the company since 2013 and is currently the general manager.
We strive to KEEP IT LOCAL! We have served many communities, schools, businesses and individuals over the years and have made many good friends. We will continue to offer our great customer service to create new relationships within our community and beyond. With our customer focused approach to business, we put our customers first. Our expert team of recognition professionals is eager and willing to help you tackle even the most challenging projects. Check our photos to see our innovative ideas and custom projects we have created
over the years.